Best Cancun Airport Transportation Services
03/08/2021
Cancun is one of the most popular destinations in Mexico. With plenty of white sand beaches, natural attractions, and exclusive resorts. From the archaeological zones to the colourful beaches, a trip to Cancun and Riviera Maya will give you the incredible opportunity to experience unique landscapes and learn about the Mayan Culture.
The hotel zone is the most popular area in Cancun among travellers, with exclusive hotel chains and eccentric nightlife. The area is located just 24 km from Cancun International Airport and offers several options of restaurants, city malls and exclusive brand stores for the most demanding tastes.
Since most travellers decide to stay in all-inclusive resorts located in the hotel zone, private Cancun airport shuttle is highly demanded because of the comfort and facility it offers to travellers to reach their accommodation.
Attending all the traveller's needs for private and safe transportation, e Transfers Cancun is a local company with more than 10 years of experience that provides high-quality transportation services to the main destinations in Cancun and Riviera Maya. Without luggage restrictions or fares for flight delays, thanks to the flight monitoring included in all services.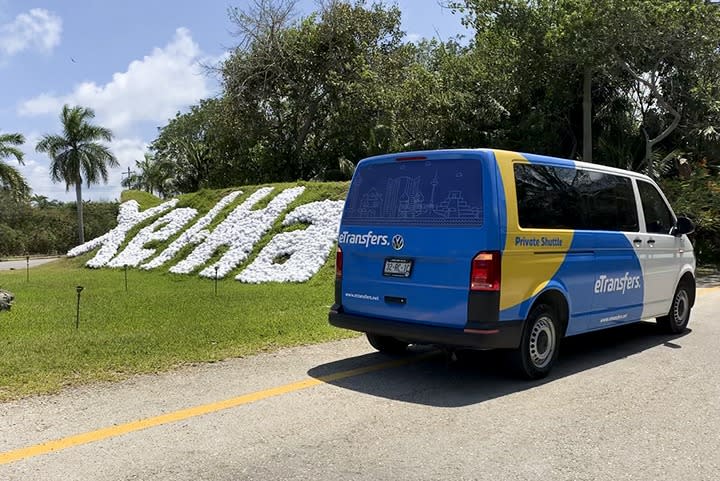 Whether you need a one-way or round-trip service, you can choose among private luxury SUVs or Vans the best option to explore every corner of the city in a comfortable and safe way. Cancun airport transportation service is available 24 hours a day, so you can meet your driver right after reclaiming your luggage and get directly to your hotel without unnecessary stops.
Other Great Transportation Options in Cancun
In case you prefer a timeless notion adventure, the Caribbean coast is also perfect for a road trip. Visits to various destinations are very common in short day trips from Cancun because the distance between the different tourist attractions is really short.
City Car Rental is another local company with years of experience that offers car rental Cancun services with a long fleet of vehicles to choose from to make the perfect trip. Whether you prefer a compact car or a spacious Suburban for family vacations, travellers have no problem finding the car that fits their needs.
You can get a Cancun car rental to drive along Highway 307 that connects with the main tourist destinations. Along the way, you can visit Playa del Carmen, Tulum and Puerto Morelos to discover the beautiful scenarios, snorkel in the colourful reefs and explore the local culture.
Travelling through Cancun and Riviera Maya is easy with the perfect transportation option, especially if it is your first time going to Cancun. Having your transfer option before your travel is very helpful since Cancun International Airport can get packed during summer or high seasons, so spending hours looking for available vehicles is not unusual.